FlowXpert™ Waterjet cutting software
ADVANCED WATERJET CUTTING SOFTWARE MADE EASY
If you are looking for the ultimate waterjet software that gives you the capability to produce the parts that you thought were only possible in your dreams, look no further. FlowXpert is the preeminent software available for waterjet. It's revolutionary in its advanced features and options, yet easy to use.
With FlowXpert you are not limited to just simply flat stock.
Of course you can easily program and cut that too, but now your part programming possibilities are endless with 3-dimensional programming.
For your convenience you can import virtually all 2-dimensional or 3-dimensional file formats, or easily draw your own part. Part programming is easy to do in FlowXpert Design and takes minimal time, putting you into production faster.
Regardless of material or thickness, our software is designed to complete the hard work for you. Once you input your geometry, you can rely on our SmartStream™ technology to automatically optimize your cutting speeds based on parameters that you define specific to your part including: desired edge finish, material thickness, and material type.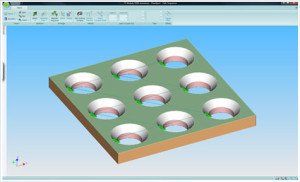 Our SmartStream mathematical models have been created using well over 100 lab tested materials. You can rely on our expertise in waterjet to help you create the perfect part.
The future of waterjet software is here. It's FlowXpert.
BROCHURE AANVRAGEN